I have discovered a good use for spirits, besides capping off my evening with a sip of something pleasantly smoky.
I bought some rum for a specific recipe last fall, and, for the life of me, I can't recall what the heck that recipe was. And, seeing as how I'm a Scotch kind of girl, having a full bottle of rum did not turn me into a pirate. It sat on the shelf, mocking me.
Worse, I had a nearly full container of
Coco Real
sitting on the shelf, also mocking me because I had allowed it to sit until its sell-by date was upon us both.
And then, there was the lime. And the grated coconut.
And the cake mix.
And my best friend packing up to move two states away. I had a belly ache.
So, I followed Harry's doctor's advice, and put the lime in the coconut.
And then, there was rum.
You can see where this went:
My Harry Nilsson Rum Cake
Ingredients:
Rum concoction:
2 Tablespoons very finely grated lime zest
2/3 cup lime juice (if you can get key lime, it's the best)
1 cup coconut creme, thoroughly mixed
2/3 cup light rum
cake:
One plain cake mix, your choice of yellow or white (I used white)
eggs (see what your mix requires)
oil (see what your mix requires)
water (see mix instructions and note, below)*
1 cup rum concoction, plus more for brushing on during and after baking
frosting:
2 8-oz bricks cream cheese, softened to room temp
1/3 cup rum concoction
2 cups (or more) confectioner's sugar
1 cup sweetened, flaked coconut
Directions:
Grease pans thoroughly (I recommend two 9" pans, for maximum effect, but use what you have), line bottoms with parchment, if you have it, and grease top of parchment. If you don't have parchment, use a little bit of the cake mix to "dust" the pans.
In a drink shaker or a quart jar, combine lime juice, lime zest, coconut creme, and rum. Shake well. (If you want to do so, you can toss it in a blender, but that's more cleanup than I like to do.)
Preheat oven to the temperature recommended on your cake mix box (usually 350º F). In a medium mixing bowl, combine 1cup of the above rum concoction, cake mix, eggs, oil, and water. Mix, pour into pans, and bake according to package instructions.
About 10 minutes before cake is done, brush top of cake with rum concoction, finish baking.
As soon as you take the cake out of the oven, brush top again with rum concoction.
Allow to cool, remove from pans, brush again with rum concoction, all sides.
When cake is completely cool, in a small mixer bowl, combine cream cheese, 1/3 cup rum concoction**, and 1 cup confectioner's (powdered) sugar, using mixer at medium speed. Continue to add sugar until thickened enough to hold its shape in soft peaks. Stir in flaked coconut. Slather on cake like there's no tomorrow. If you so desire, add more flaked coconut on top.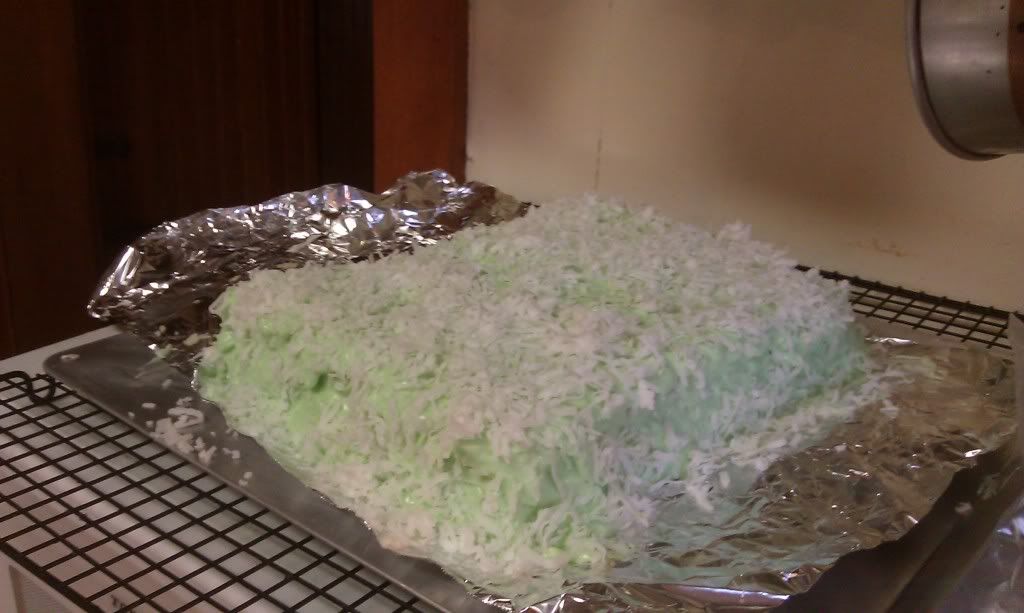 I fixed this cake on another occasion, replacing, with the rum mix, all the water the white cake mix called for, and then baking it in a jelly roll pan. It comes out a little denser than the usual cake – sort of halfway between standard fluffy white cake and pound cake. Once cooled, it was then easy to cut in half, layer with frosting (this also has some green frosting color added), & stack before finishing the frosting as you see here.
Chill (both you and the cake) about an hour. Serve cool, perhaps even topping with some dried pineapple decorating the top (but then, it's heading toward becoming a Pina Colada cake, and that's
a whole nother song
).
*Your mix may call for more or less than 1 cup water. The rum concoction should replace no more than 1 cup of the liquid required, so add water according to the needs of the mix.
**You are likely to have some rum concoction left over. Do not let it go to waste. Pour it over ice and sip it through a straw, while watching Beach Blanket Bingo, or some other sandy, bikini-laden and teen-star-studded delight.