Our family likes desserts of all sorts, but there is one sweet which reigns supreme, especially with my father, and that sugary delight, to the shock of some, is not cake. Indeed, with that in mind, for more than four decades, Pop has been treated on his birthday to one particular cake alternative.
He gets lemon meringue pie.
He gets his special lemon meringue pie.
Bat says she got the original from a women's magazine, back about the time I was starting kindergarten, so that puts it at the mid-1960s. Since then, she's made a few alterations, to keep everybody happy with this springtime treat.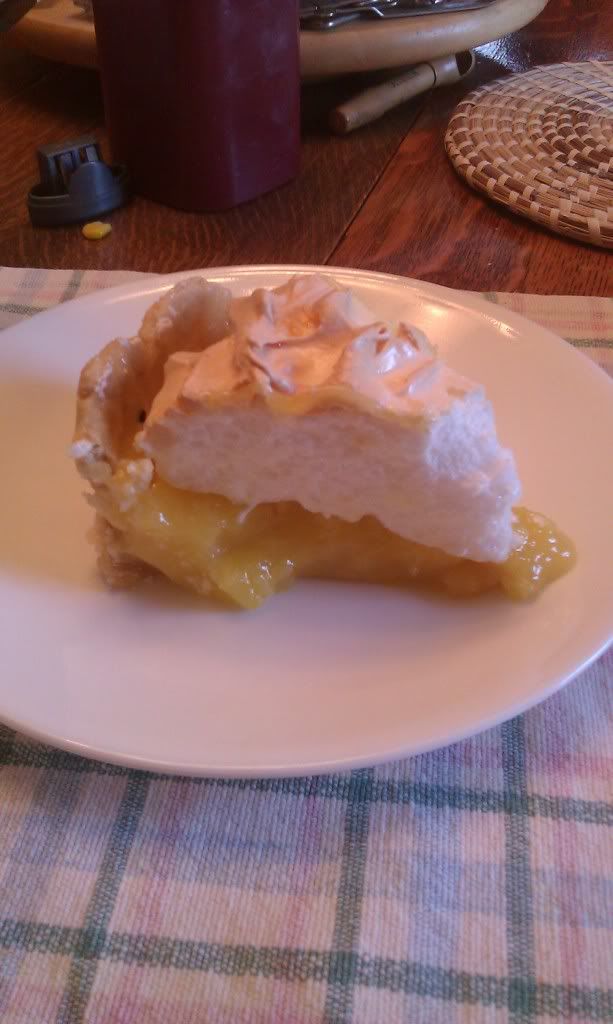 Pop's Birthday Lemon Meringue Pie
Pastry crust
Ingredients:
1 large egg yolk
2 Tablespoons ice water
1 Tablespoon lemon juice
pinch salt
1 stick (1/2 cup) butter
1 1/2 cups sifted all-purpose flour
2 Tablespoons sugar
Directions:
Beat yolk lightly and add ice water, lemon juice, and salt. Cut or work butter into flour, then add, along with sugar, to the egg mixture. Work ingredients together until they form a soft ball. Wrap in plastic and allow to chill in refrigerator at least 1/2 hour.
Remove from fridge, pat into 9" pie pan, flan ring, or springform pan. Place sheet of foil inside shell and fill with weights (beans or rice will do if you don't have ceramic pellets for the purpose). Bake in moderate oven (350º F) for 25 minutes.
Filling
Ingredients:
6 egg yolks
1 1/2 cups sugar
grated rind of one lemon (about 1 Tablespoon)
1/2 cup lemon juice
3 Tablespoons butter
4 Tablespoons corn starch
1/4 teaspoon salt
1 1/2 cups boiling water
Directions:
Beat egg yolks well, add remaining ingredients except boiling water, and beat again thoroughly. Combine with boiling water and pour into top of double boiler. Cook over hot water until the mixture thickens , then allow to cook 5 to 10 minutes longer over simmering water.
Pour into baked shell.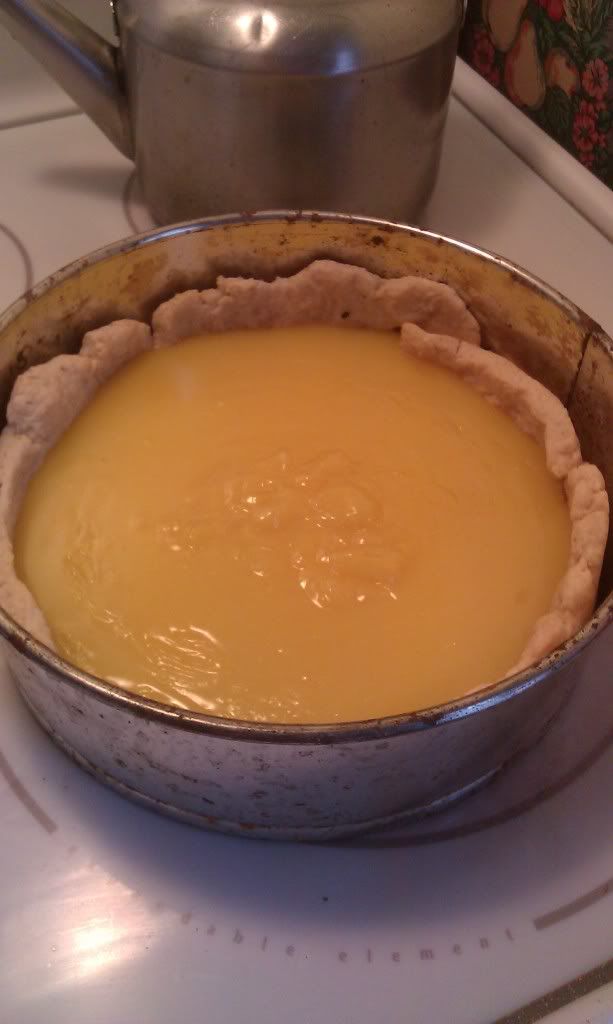 Top with meringue.
Meringue
Ingredients:
6 egg whites
pinch salt
12 Tablespoons sugar
Directions:
Beat egg whites until they form soft peaks. Add cream of tartar and salt, continue to beat until whites are stiff but not dry. Add sugar, a little at a time, beating in thoroughly. Spread meringue over surface of the pie completely, including the edge of the crust. (If you want to keep the meringue from weeping, and would like a slightly drier meringue, you may wish to add 1/2 teaspoon cream of tartar, or 1 teaspoon vinegar and 2 teaspoons corn starch).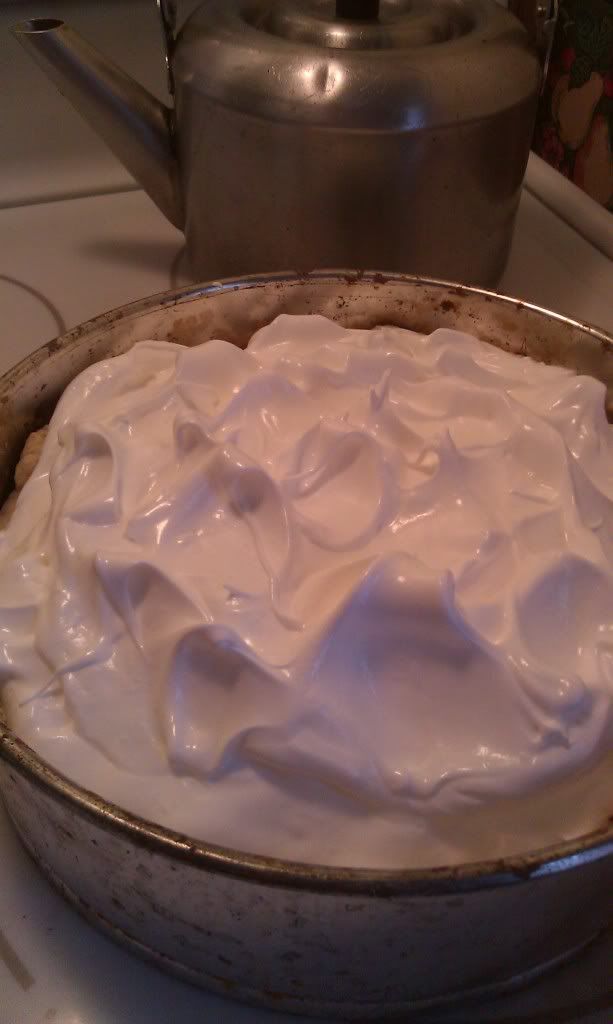 Bake in moderate oven (350º F) 15 to 18 minutes, until the peaks are delicate light (golden) brown.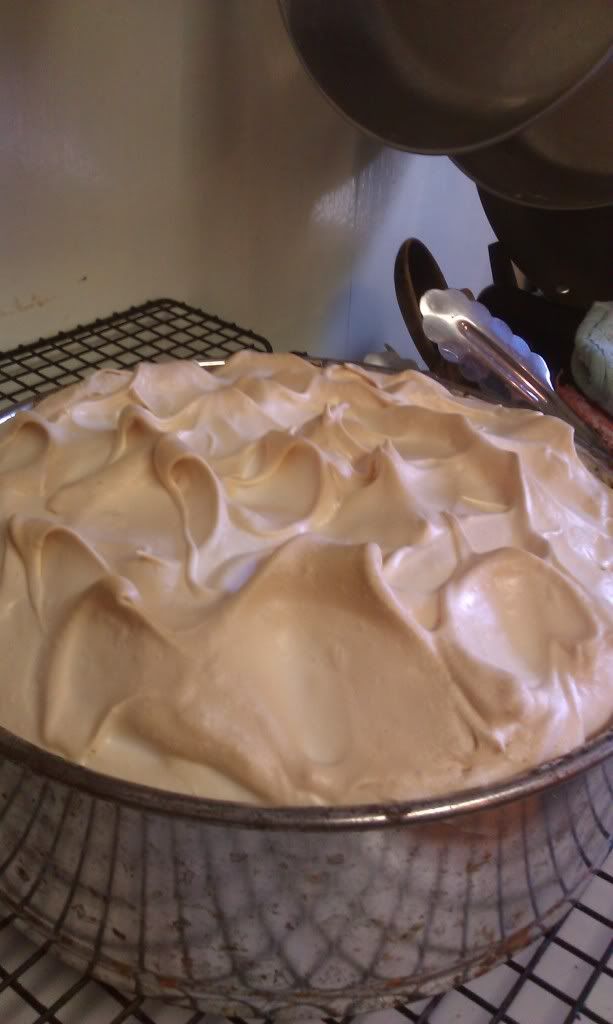 Serve room temperature or chilled.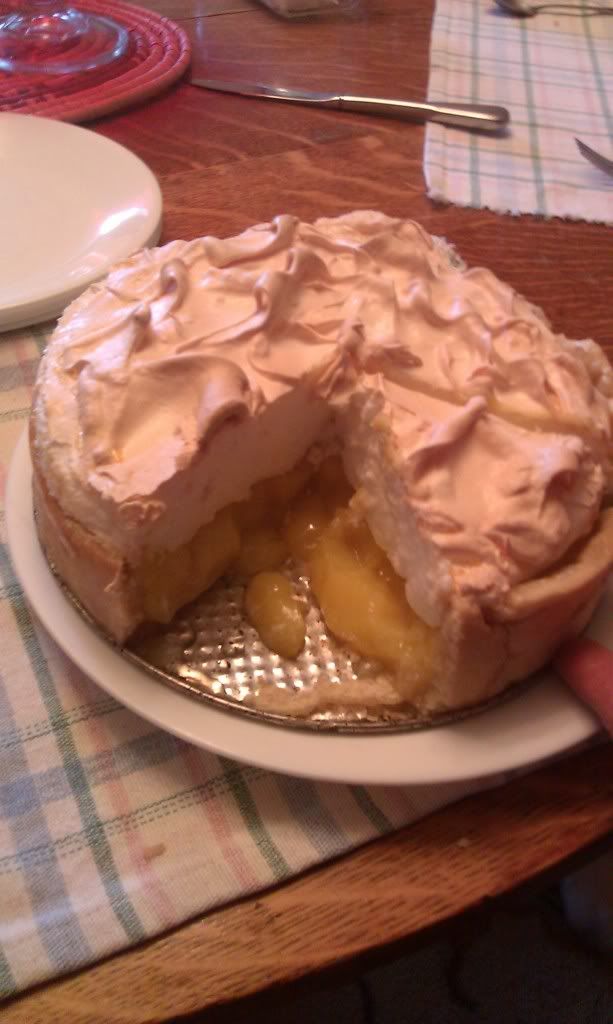 If there are leftovers (it is to laugh!), keep refrigerated.
Update: finally realized I had not listed tha amount of lemon juice required. It would have made an amazingly bland filling, without the stuff...