I always look forward to the arrival of Spring, not so much for the weather change (thaw means more allergies), as for the birthday baking. My pop gets his lemon meringue pie from the Bat, then there are three projects for me to work up: in reverse order, pie for Bat, chocolate decadence for me, and THE PROJECT for my favorite diminutive superhero, Monkey Boy.
Monkey Boy is the son of a non-blood-relative who has been a member of the family for decades, now. He gets special treatment, just as his older sister, Shining Star, does, because they are close - in terms both of actual proximity and emotional ties.
This year, managing to endear himself even more to me, Monkey Boy has discovered
Doctor Who
. His grandmother has streamed some of the age-appropriate episodes on her video feed, and Monkey Boy now wants his own sonic screwdriver, among other things.
So, in order to do my part in setting up for proper birthday celebration, I'm running a
Doctor-Who
-themed party, complete with Daleks and TARDIS and bow ties and fezzes (because fezzes and bow ties are cool!).
To begin with, Monkey Boy's grandmother will be showing an episode of
Doctor Who
featuring the Daleks (probably "Army of Ghosts" or "The Stolen Earth/Journey's End").
To carry through on the theme, then, I've decorated blue paper cups with white paint pens, to pass for mini TARDISes, converted red SOLO cups to fezzes, and cut construction paper into bow ties for all the partygoers. There is much use of hat elastic string.
Next, the kids will receive bags (one each) with components to build their own Delicious Daleks (more about that,
in another blog entry
).
Most important of all, the cake is (to the best of my abilities) in the shape of a TARDIS.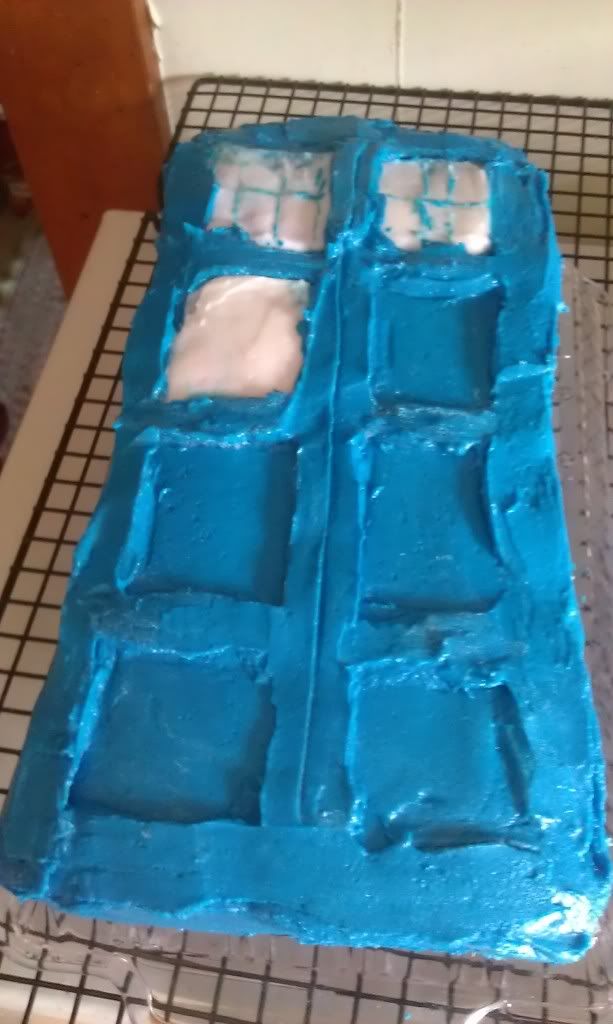 The cake is a simple one, your standard white cake with food coloring, and the frosting is a basic "butter cream" variety, also Kool-Aided for fun and flavor. Plus color.
Seriously, all you need for the cake is your favorite white cake recipe or box mix, and pile in the color until the batter is about the color you want. If you want to give it a rainbow effect, once you make the batter, divide it into several bowls (most recipes and mixes will provide you with about 5-6 cups of batter, so you can figure out the divisions) and add in as much coloring as you need. Then, just pour it into a greased, parchment-lined jelly-roll pan and bake 25 minutes or so, until a toothpick inserted into the center comes out clean. (In my case, I decided to match the cake with the cones I used for the aforementioned Dalek-making project for the kids. The swirl is…well… kind of, sort of wibbly-wobbly timey-warpy.)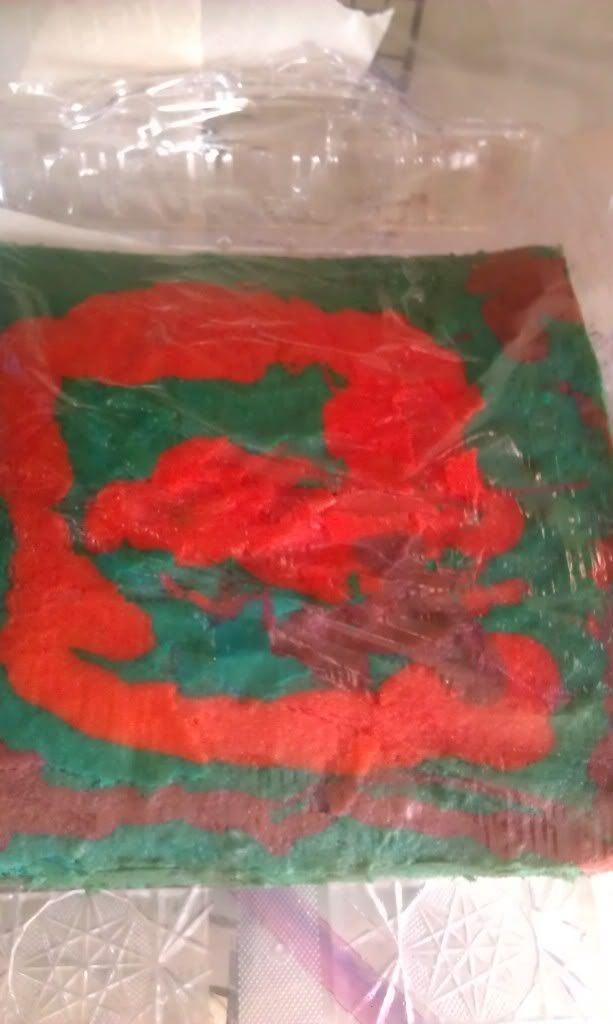 Allow it to cool completely.
Finishing Frosting
Ingredients:
1/3 cup shortening (I used Crisco, but you can actually use unsalted butter)
4 1/2 cups confectioner's (powdered) sugar
1/3 cup water (and more, if needed)
About 1/2 package unsweetened Kool-Aid Twists ice-blue raspberry lemonade (to taste)
a
whole mess
of food coloring (Wilton's gel, purple was my choice)
In a small bowl, mix shortening, half of sugar, Kool-Aid powder, and water at low speed until thoroughly blended. Add remaining sugar gradually, mixing on medium speed until light and fluffy. The frosting will be a very pale baby blue. Glop in at least a teaspoonful of purple coloring gel, mix throughly.
You will want to decide how much more blue you want to add to the frosting, at this point. Just keep in mind, if you are using plastic spatulas, plastic bowls, the food coloring will stain what it touches (fingertips, too!). To get the shade I wanted, I ended up using nearly all the little tub of purple coloring gel, and it still isn't near the official TARDIS blue, but it will serve the purpose.