I had a leftover white cake mix from when I made the birthday cake for my favorite local Monkey Boy, and I don't much care for letting those things take up space in the pantry, unless there's nothing else I can do. But today, while waiting for laundry and paint (well, varnish) to dry, I had the opportunity to play in the kitchen, again.
Aside from the cake mix, I had a little fresh orange juice…well, actually, more than a little. I had neglected to grate off the rind from them before I juiced them, so I hadn't really thought the process would serve all that well, except that I still had a bowlful of clementine tangerines (not cuties brand, but about the same size and sweetness), all of which could be peeled and tossed into a salad for tonight's supper, so there I had what I needed.
So, I baked a cake and frosted it, using up a few leftovers.*
Cleaning house, with real gusto.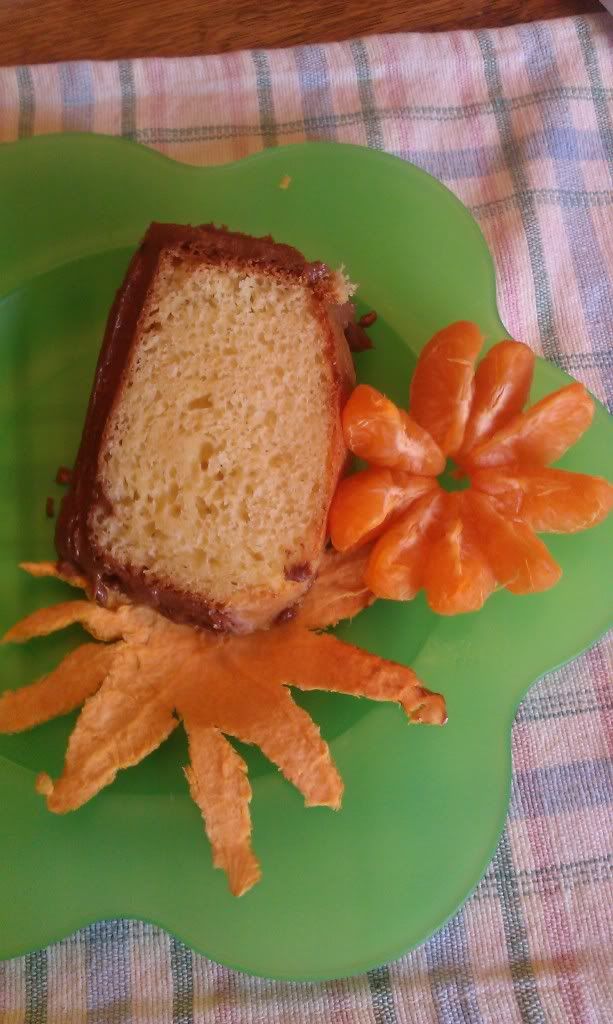 Preheat oven to temp recommended on mix box (mine said 350º F). Take out butter and cream cheese for frosting, let warm up to room temp. If it's a cool day, soften slightly in microwave oven. Do not allow to melt!
For the cake
Ingredients:
1 box of your favorite white cake mix (I usually prefer Aldi's, but today's was a Major Name Brand with pudding in the mix. Still, any good mix will do in a pinch)
1 cup plus 1 Tablespoon fresh orange juice
1/3 cup canola oil
3 eggs (or, for lower cholesterol, 4 egg whites)
1 teaspoon tangerine rind, finely grated
Mix cake ingredients according to instructions on box, substituting orange juice for water and adding in grated rind. Pour batter into well-greased cake pan lightly dusted with flour. Bake according to box instructions, until a toothpick or cake tester comes out of the center clean.
Cool completely, remove from pan.
For the frosting
Ingredients:
1 brick (8 oz.) cream cheese, softened to room temperature
1 stick (1/2 cup) butter, softened to room temperature
1Teaspoon finely grated tangerine rind
1 lb (4 cups) confectioner's sugar (powdered sugar)
1/2 cup cocoa powder
1 Tablespoon orange juice
1 teaspoon vanilla
While cake is baking, cream butter and cream cheese until light and fluffy. Mix in fruit rind. With mixer on low, add 1 cup sugar, mix well. Add 1-2 Tablespoons cocoa power, mix well. Add another cup powdered sugar, mix, add more cocoa, and continue mixing and adding portions until all blended. With mixer on high, gradually add in orange juice and vanilla, keep mixing until frosting is lightly fluffy.
Cool in refrigerator at least 1/2 hour before applying to cake.
*This cake comes out somewhere between light and fluffy and dense as a pound cake. If you want a lighter, fluffier version, use a no-pudding-in-the-mix variety and add an extra egg white.